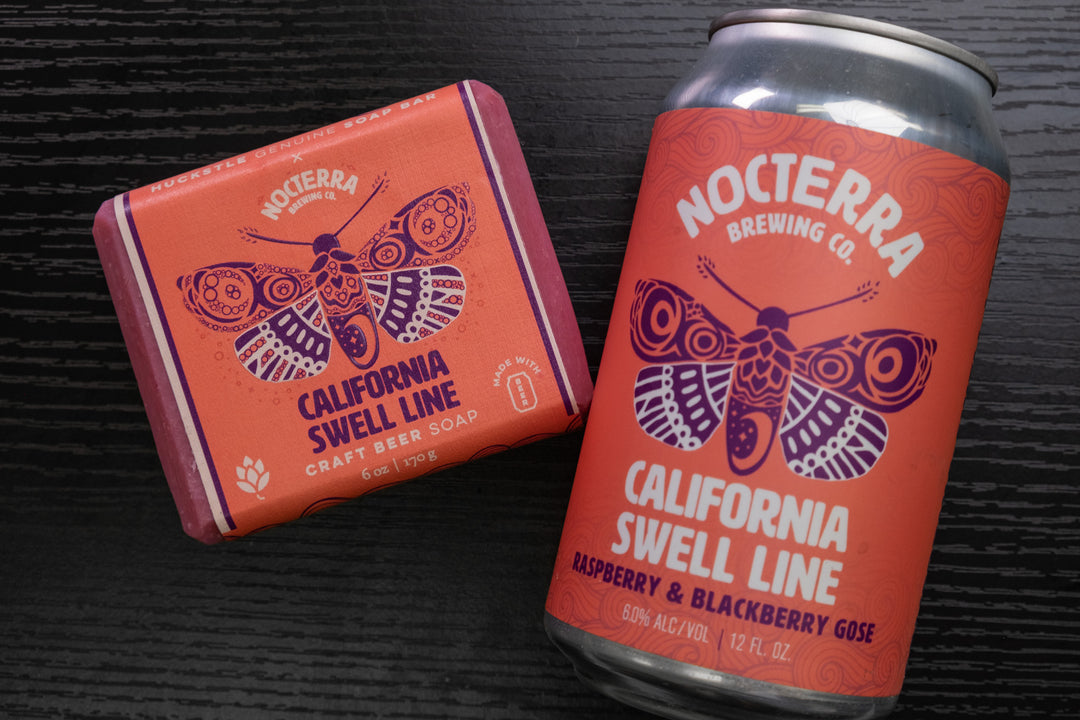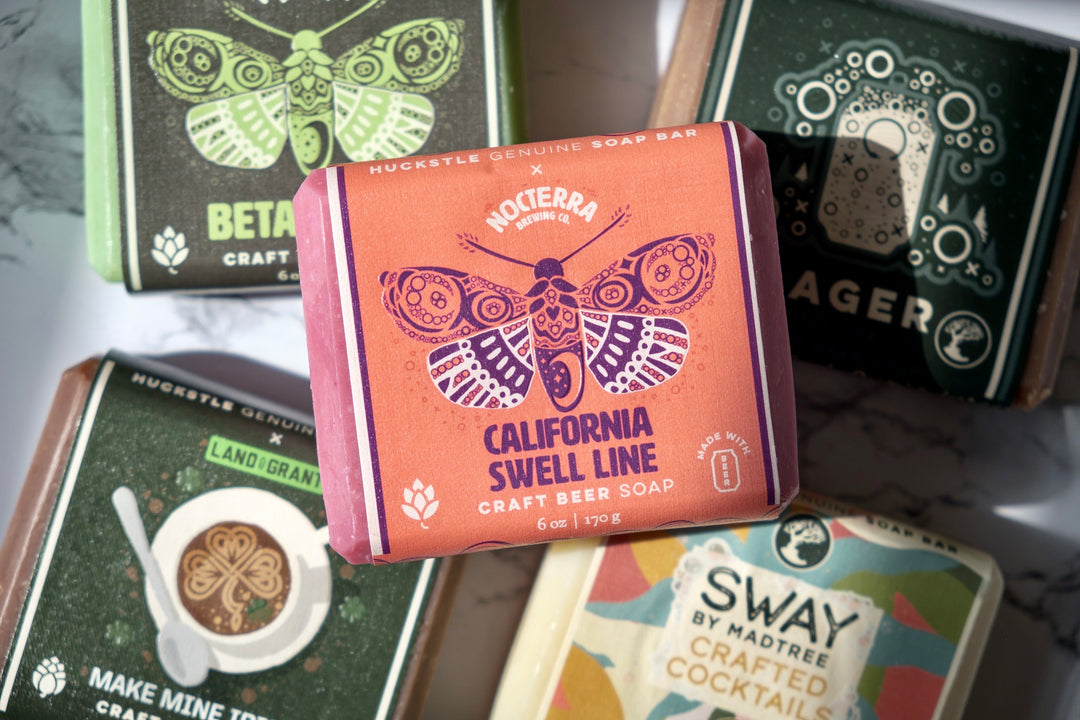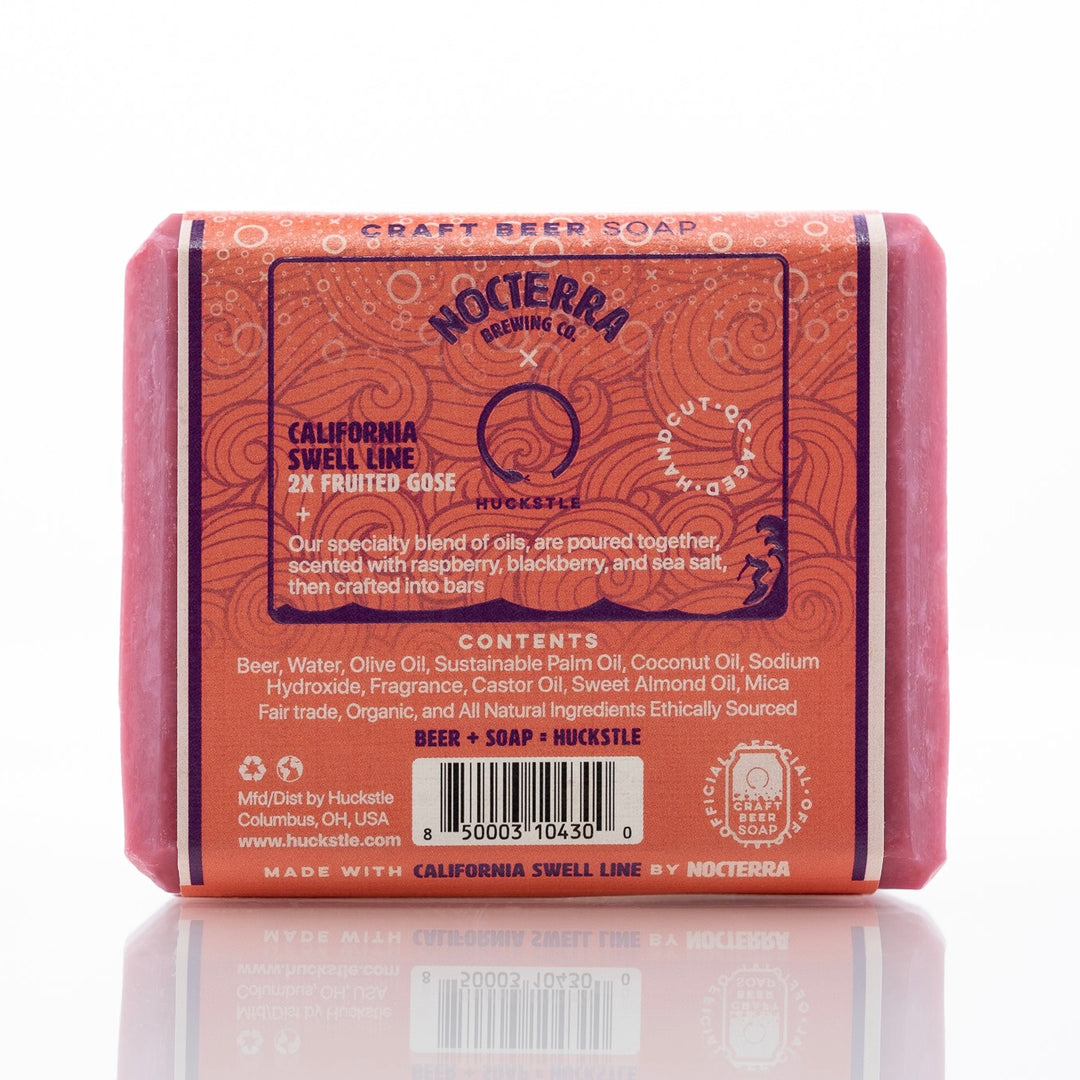 California Swell Line Craft Beer Soap Bar
Liquid error (snippets/image-element line 107): invalid url input
In stock, ready to ship

Inventory on the way
Huckstle x Nocterra
Premium Cold Process Craft Beer Soap Bar made with California Swell Line by Nocterra Brewing Co.
Beer Type: 2x Fruited Gose
Our bars are hand cut, aged, and wrapped in linen. Made with high quality plant oils and butters that create a creamy lather to penetrate deep into the skin for a superior clean and moisturizing effect.
California Swell Line a 2x Fruited Gose + our specialty blend of oils are poured together, scented with raspberry, blackberry, and sea salt, then crafted into bars
6 oz | 170 g
Beer, Water, Olive Oil, Sustainable Palm Oil, Coconut Oil, Sodium Hydroxide, Fragrance, Castor Oil, Sweet Almond Oil, Mica
You may have a certain way of showering and bathing but using soap bars as suggested, you can maximize its lifespan and efficiency, which in turn will make the bar last longer and save you money.
Many people apply soap to their body directly under the shower head rinsing off the lather as soon as it is put it on. Think of showering as the same way you'd properly wash your hands. Start by rinsing and wetting your body. Use soap lather to rub and scrub all over your body while you aren't under direct water flow. Afterwards, you should rinse off the soap.
Lots of people rub the bar of soap directly on their skin. But it's really the soap's lather that gives it its great cleaning properties. So, rather than putting the bar directly on yourself, lather with your hands, set down the bar, and apply. If you use a washcloth, loofah, etc, They work great in dispersing lather all over and exfoliates while your soap cleanses.
Afterwords, be sure to rinse and shake excess water off your bar. And place it somewhere to dry. Preferably on a soap saver.
Genuine Soap Bar: Handcrafted with high quality plant oils and butters 
Cold process soap: A technique of producing soap without extra heat being applied to the process. The combination of lye with natural butters and oils create its own heat. Mixing oils with sodium hydroxide (aka lye). The result is a chemical process called saponification.
Saponification is a process that converts fat, oil, or lipid, into soap. Our soap is of both art and science. It takes time and high levels of expertise to ensure we result in a soap that is not too caustic, too soft, nor too hard. Our bars are healthy for the skin, deep cleaning, incredibly moisturizing, extraordinarily fragrant, and produce a creamy lather. 
Aged: Our Premium Cold Process Soap Bars are cured for 6-8 weeks to complete the entire process of saponification. The longer it cures the better, which hardens the soap and yields a longer lasting bar.
We usually ship same day if ordered before 5pm EST. All orders are processed within 1-3 business days. Orders are not shipped on weekends or holidays.